Is your business ready for the upcoming Black Friday and Cyber Monday holidays? 
Black Friday and Cyber Monday are two of the biggest shopping holidays for every shopper out there. These are also two wonderful opportunities for your brand to gain more sales and earn people's trust. In order to seize this opportunity, you'll need to prepare accordingly. 
And we're glad to help you with that! 
Today, let's discover the 12 ways you can prepare your business for the influx of visitors and conversions this Black Friday and Cyber Monday, enabling you to be on top of the tight competition. 
So get ready to take notes!
What are Black Friday and Cyber Monday? 
Opportunities in a bundle - that's what Black Friday and Cyber Monday bring to the table. 
Black Friday, a well-known shopping holiday, takes place on the last Friday of November, followed by Cyber Monday two days later. These two separate events have one common goal, to encourage people to shop as they mark the start of the holiday season. 
And if you're a business, this presents a huge chance to elevate your sales and gain exposure to a wider audience. 
How to boost your Black Friday and Cyber Monday sales?
As the anticipation for this year's holidays grows, your business has unlimited opportunities to increase sales and capture the attention of eager shoppers. 
Let's run down through this colourful yet informative infographic we've just made for you! 
Focus on website optimisation.

Try new channels.

Build a loyalty program.

Create campaigns beforehand. 

Plan lead gen strategies smartly. 

Increase your social media ad budget. 

Collaborate with micro influencers.

Respond in real time.

Build your store experience.

Keep your audience interested.

Leverage UGC's power.

Create channel specific content.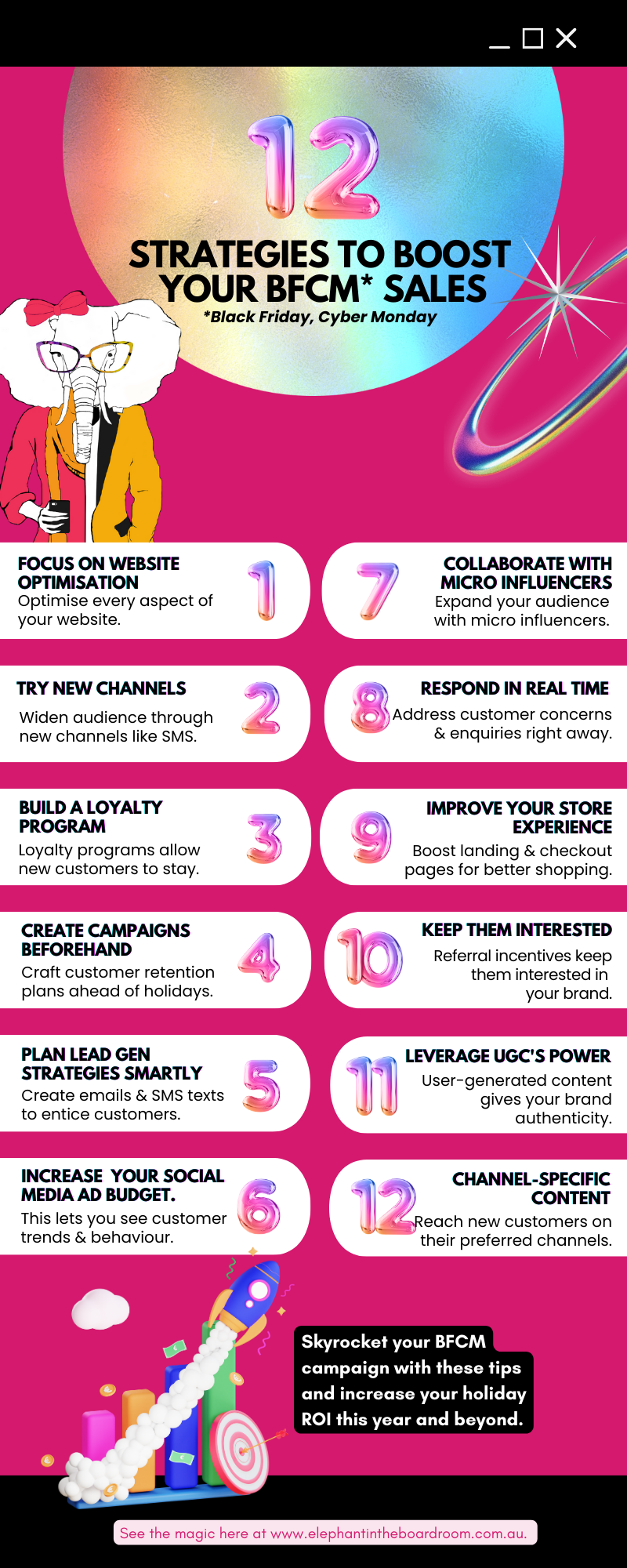 Be ready for the holiday season! 
Black Friday and Cyber Monday are just around the corner. But it's never too early for your brand to prepare for what's to come. Follow these expert tips and you'll see your sales, conversions, and page visits skyrocket from here on out! 
All the best this holiday season! 
And to achieve the best results, let the experts assist you! Elephant in the Boardroom has transformed businesses and helped them achieve their goals through websites that reflect their identity and resonate with their audience. Yours could be next! 
Let's get started on your holiday marketing makeover now at www.elephantintheboardroom.com.au!