Would you say that writing has become easier now with the availability of AI tools? 
Let's face it, writing marketing copy for websites, social media posts and ad copy isn't a walk in the park. Even seasoned writers can sometimes find themselves at a loss for words. There's always that unique challenge in crafting marketing copy with both precision and persuasion in equal measure. 
This year, the emergence of AI tools have taken the digital world by storm. It's safe to say that this is one of the highlights of the year. AI tools have proved themselves to be more substantial than the buzz they generated, becoming an invaluable resource for marketers searching for a more effective method to create impactful marketing copy.  Whether it's crafting an eye-catching headline or perfecting a call to action, these innovative tools have become a formidable force in the copywriting world.
 
What does AI Copywriting mean?
AI copywriting harnesses the power of artificial intelligence to create written content, such as marketing copy, articles, social media posts, product descriptions, and more. 
Leveraging AI copywriting tools has enabled marketers to generate content more rapidly, while infusing a human touch into their creations.
Here are some marketing copy examples that AI copywriting tools can swiftly generate for you:
Blog posts, listings, and content, including meta descriptions and titles

Website landing pages content

Email marketing copy including subject line

Ad copy for your social media and Google Ads

Captions for your social media posts

Product descriptions for your eCommerce store
Let's delve into some of the best AI tools that are revolutionising the marketing copy landscape.
Jasper.io (formerly Jarvis)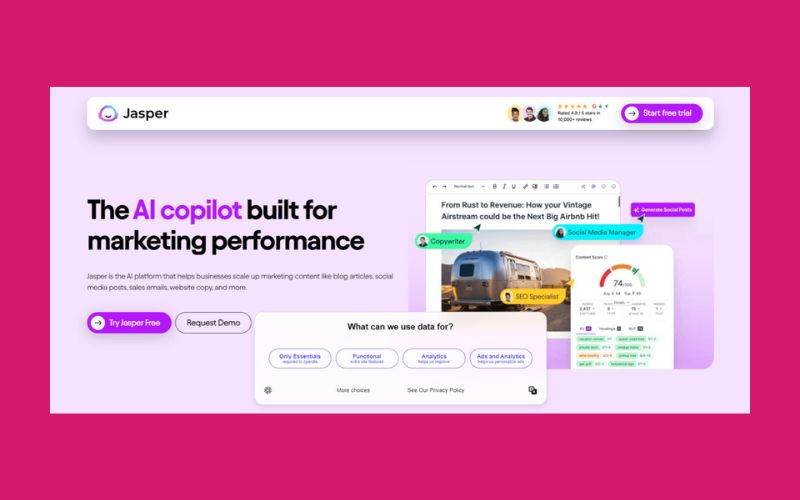 Powered by GPT, Jasper.io is an impressive AI tool that can write pretty much anything, from outlining blogs, writing social media captions, creating product descriptions for an eCommerce store, putting together SEO meta descriptions and headlines, to making content for websites and landing pages. 
But isn't that its primary purpose? Indeed, it is, yet Jasper.io offers an array of other remarkable features that make it so helpful.
It has the ability to set the tone of the content, which is important if you like authenticity in your marketing copy 

It's available in multiple languages - how cool is that?!

It generates grammatically correct and unique content

You can collaborate with your team member on the platform
+Best for social media content, ads and product descriptions 
+Available in Free Trial (5 Days), Starter, and Boss Mode.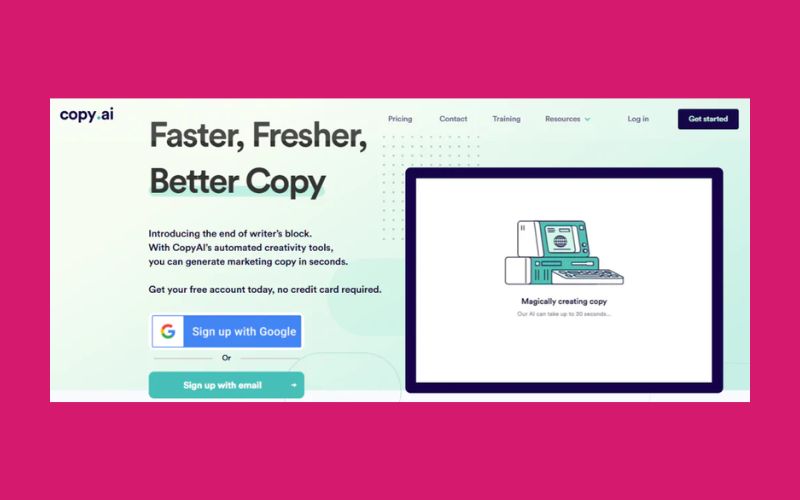 Copy.AI stands out as one of the most versatile AI tools for marketing copy. Similar to Jarvis.io, it leverages GPT-3 to provide an extensive array of templates. These templates cover a wide spectrum of copywriting needs, spanning from blog post structures and creative concepts to crafting social media posts, email marketing materials, web page content, case study formats, and even video scripts.
How good is Copy.AI? With these tool you can create these at a breakneck pace:
Write effective blog introductions based on pain-agitate-solution formula

Write articles and listings 

Create highly engaging and click worthy email subject lines

Easily produce product descriptions for your Amazon listing, or for online store

Create copy for your Facebook and Google Ads
+Best for email copy as well as shorter copy, like product descriptions, and headlines
+Available in Free Forever (10 credits per month), Pro and Custom pricing plans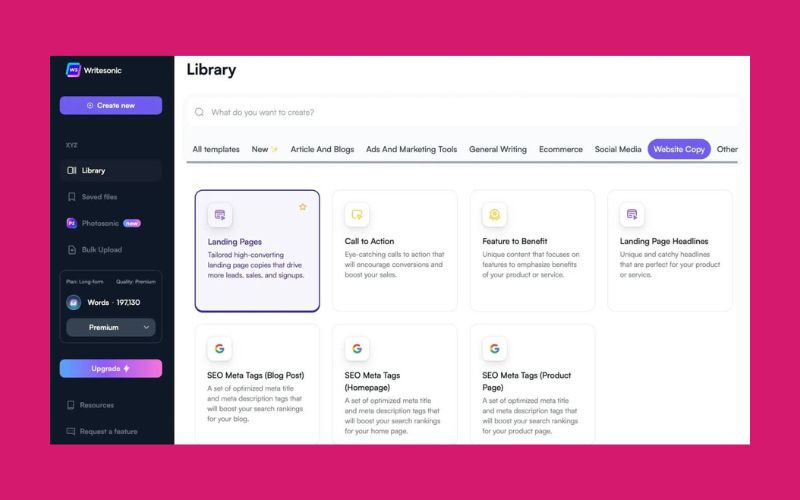 Writesonic serves as the all-inclusive AI platform to meet a wide spectrum of copywriting requirements. Whether you require articles, blog posts, advertisements, marketing collateral, eCommerce product descriptions, social media updates, or web page content, Writesonic is dedicated to empowering you to craft up-to-date and quality content. 
Created to help marketers, writers, and users to speed up their copywriting process, Writesonic is packed with these versatile features:
It supports content writing in 25 languages

Depending on your prompts, it can generate different styles of language ranging from professional, fun and dramatic. 

It can rephrase content, expand sentences, and condense longer paragraphs
Explore Writesonic's extensive collection of ready-to-use copywriting templates, right at your fingertips.
+Best for blog posts, ad copy, social media content
+Available in Free Plan, Pro Plan and Enterprise Plan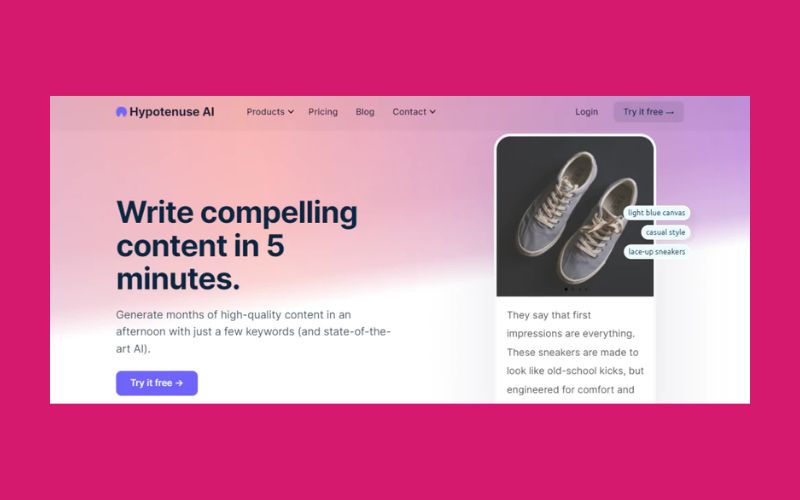 It's an exceptional name for an AI copywriting tool, and Hypotenuse AI is undoubtedly considered one of the best! It uses natural language processing and machine learning to produce content that centres around three primary categories: product descriptions, blog posts and ad copy, and social media posts.
Hypotenuse is laid out in a step by step process to help you bring out the best content possible. It's a rather different approach but it's still easy to use and enables simple inputs and edits along the way.
Here's an example: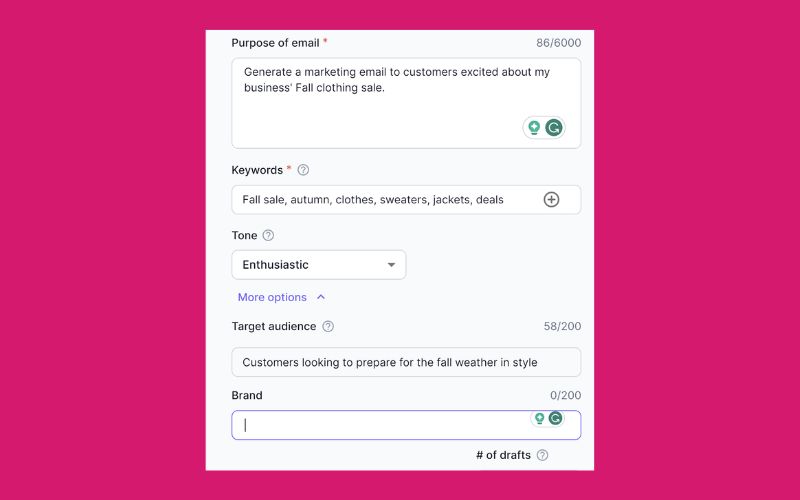 This approach offers you the flexibility to provide more in-depth input compared to many other AI copywriting tools. This includes the inclusion of keywords, categories, and specific target audiences, allowing it to generate content that aligns closely with your needs. Moreover, less editing is required, saving you valuable time.
+ Best for email copy and blog posts
+Available in Free Trial (7 days),Starter,Growth and Enterprise Plans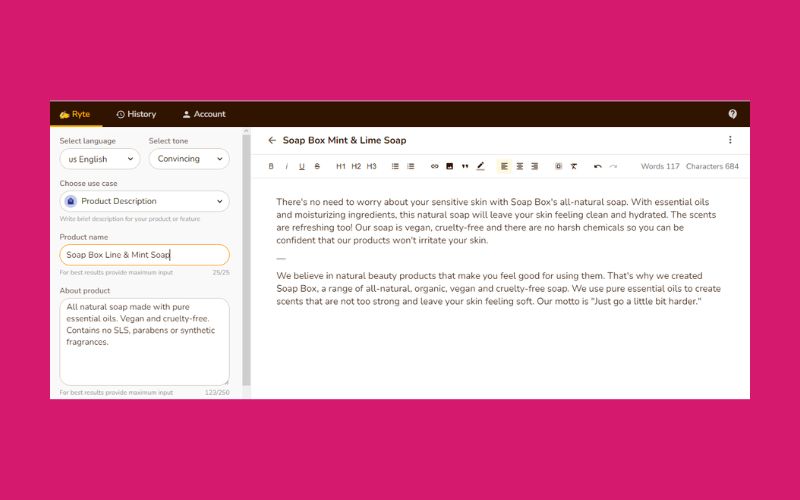 Another great free AI tool to add to your arsenal is Rytr. Powered by GPT-3, it also uses Proprietary AI to create content of over 25 unique applications. In addition to the usual marketing copy, you'd be surprised how Rytr can also deliver creative work like song lyrics and narrative plots for your stories.
Rytr's writing capabilities are primarily tailored to creators and writers, rather than business owners, and support a broader array of writing styles compared to other AI tools. Aside from writing content for you, Rytr is also capable of enhancing your material with its Rich Text Editor. 
Require a SERP analyzer or a keyword generator? You won't need a separate tool for those functionalities when you utilise Rytr.
 
It's highly user friendly, featuring a simple, minimalist interface. Simply sign up and you'll be directed to the dashboard, where you can create a new folder or new document. 
+Best for blogs, blog section writing, email copy
+Available in Free Plan. Saver Plan and Unlimited Plan
How to Choose the Best AI Tools that Align with your Goals
There may be plenty of AI tools out there to help you write killer content, but each one is unique and works differently depending on your preference. 
When selecting the ideal writing assistant, there are a few key points to bear in mind:
User friendly interface to make your work easier

High quality content free of plagiarism that require minimal work

Cohesiveness in the structure,

whether it's in short or long-form content.

Robust features so you won't need other tools 
Boost your productivity and elevate your marketing copy!
While it's true that AI tools may not completely replicate the capabilities of the human brain, we cannot deny their substantial utility for many marketers, creators, and writers. When you have a lot on your plate, having these tools at your disposal can free up some of the time that you would otherwise spend on mundane writing tasks. 
Work smart with AI copywriting tools. Or work smarter by partnering with expert digital marketers with ample experience in marketing copy. With the right digital marketing agency partner, every piece of content is a catalyst for growth, engagement and success.