Want to thrive in the vast online landscape? You need a stunning website, super engaging content, and a range of SEO tools to achieve visibility, credibility, and success in the digital realm.
But how exactly does it work? And how much will it cost? 
Let's unlock the power of SEO with the most reliable SEO tools to ensure your business's digital marketing success. Want some good news? You won't need to spend thousands of dollars to use these tools and see results whether you're a small business or a large enterprise.
Get ready to grow with these SEO tools:
Google Analytics 4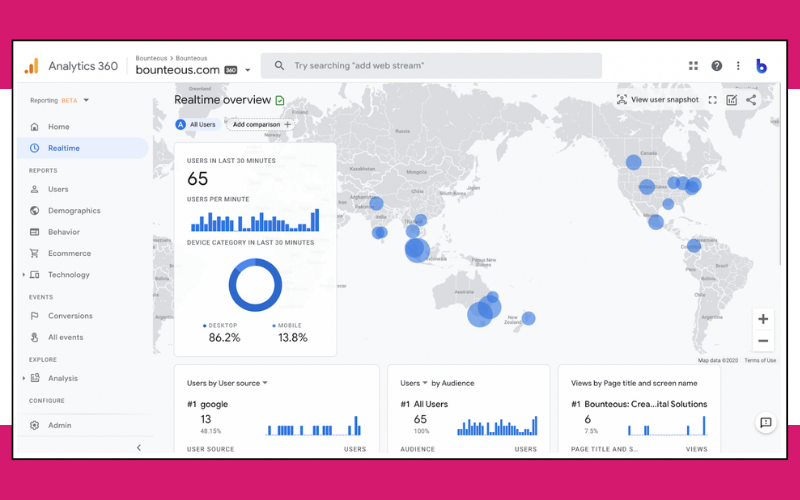 Google Analytics is one of the many SEO tools  that comes to mind when we talk about measuring our business' online success. So what exactly does it do? 
This tool from Google lets you see your website's analytics, allowing you to strategise your marketing according to the collected data. It can track user behaviour, engagement rates, user traffic, and conversion rates. 
Recently, it was upgraded to Google Analytics 4, which has more extensive analytic measurements for your brand. It now includes: 
using events based data, perfect for holiday campaigns;

adding privacy controls to ensure safe data collection;

offering predictive capabilities; and

direct integration with other platforms. 
Google PageSpeed Insights
As SEO now measures page speed on its search engine rankings, it's important that your page can keep up. That's where PageSpeed Insights, another useful tool from Google, can help. 
What's great about it is that it's very easy to use. After entering your website URL on the homepage, you'll instantly get access to the following:
Core Web Vitals assessment

performance issues

accessibility

opportunities for your website

SEO score
It also rates your website based on four SEO standards:
performance, 

accessibility, 

best practices, and 

SEO. 
As such, you must aim for a score close to 100 to ensure that your website's SEO is at its best! 
Google Search Console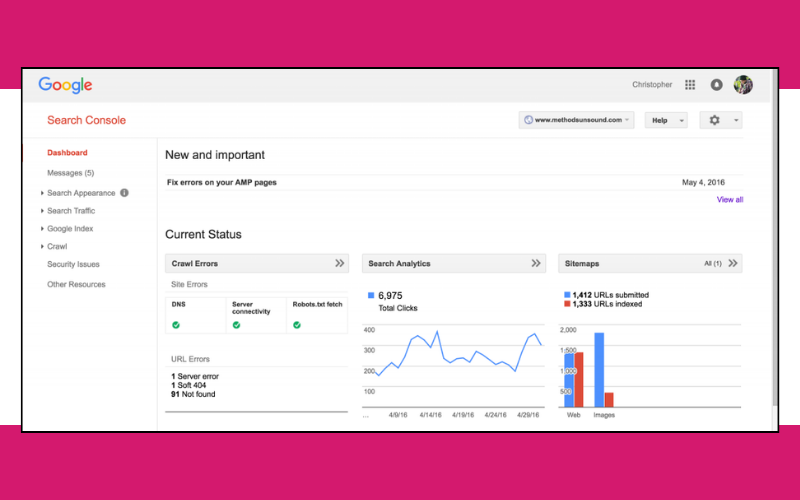 Another useful tool you can explore is the Google Search Console, a free SEO platform provided by Google It offers a wide array of features and insights that can significantly improve your website's performance in search results.
First, enter the your website's URL or a specific page within your website. It will then display a clear overview of your website's health. But there's more it can delve into, such as your website's:
search analytics

other websites linking to your site

internal links

geographical targeting

mobile accessibility
Getting competitive grades on these metrics guarantees you a higher spot on search engines. But if your website isn't there yet, it's not too late to recalibrate your strategies! 
SpyFu competitor SEO tool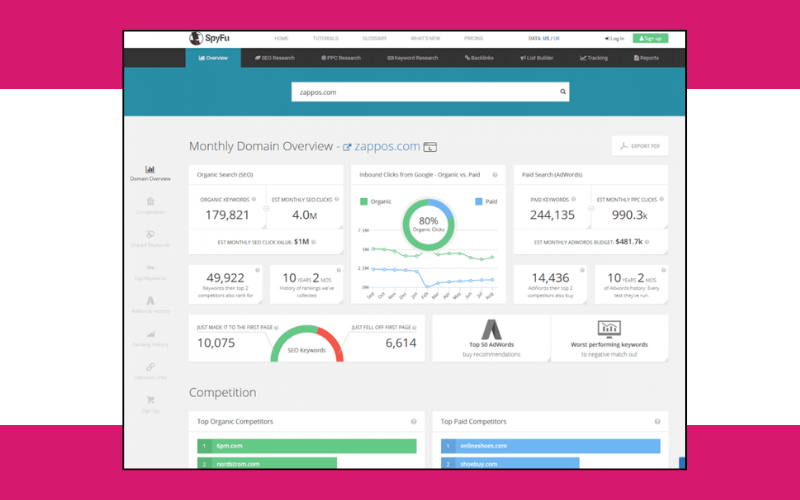 Generating ideas from your business' analytics is surely helpful, but your competitors can be another source for beneficial insights. We have SpyFu to thank for that.  
SpyFu is one of the SEO tools that makes researching your competitors SEO strategy and digital marketing easier and less intrusive.
With its competitive analysis feature, you can get a quick and comprehensive overview of your competitor's website along with an explainer report. It also shows you their shared keywords, top keywords, top pages, and Google Ads history. 
With SpyFu, you can uncover a lot from your competitors which you can use to further improve your business. It can 
help you find new keywords to rank for, 

determine their success rate in particular keywords, and 

know more about their link profiling and link building 
Google Trends SEO tool
Google Trends is yet another tool from the leading search engine that can help with your business's SEO. It further helps you by discovering trending topics that are garnering search interest at the moment. 
Clearly, this is extremely useful, especially in content creation. Google Trends presents you with trending topics where you pull inspiration from. Also, it gives you long tail keywords that haven't been uncovered yet by most of your competitors. 
You can also refer to the interest section of a keyword you searched to gauge its level of interest over time. This helps keep you informed on your new topic's relevance.  
AnswerThePublic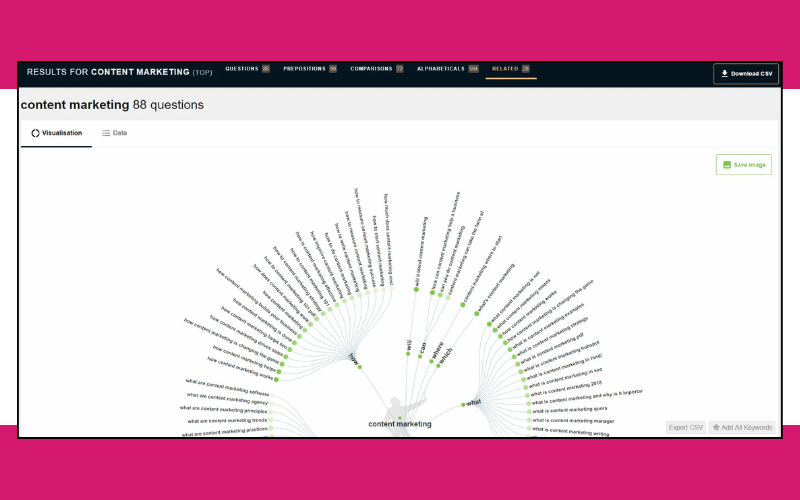 An essential part of SEO is keyword research. And to unlock the most productive keywords for your business, you need a tool like AnswerThePublic. 
More than just keyword research, AnswerThePublic gives you autocomplete data from search engines which is then presented as relevant phrases or questions which can act as new keywords. It also shows each keyword's search volume and probable search engine questions. 
Are you in need of SEO-competitive content? A little keyword research on this tool can go a long way. 
Need more SEO Tools? We got more for you!
Google SERP Snippet Optimiser
To rank higher in Google, backing up your keywords with click worthy meta descriptions is the formula. For this reason, a handy tool like Google's SERP Snippet Optimiser by Higher Visibility is indispensable. 
Moreover, this tool simulates Google's results page and allows you to test out your page title, URL, and meta description to see how they'll appear in Google. Consequently, it helps you craft better meta descriptions that can lead searchers to your site.
Yoast SEO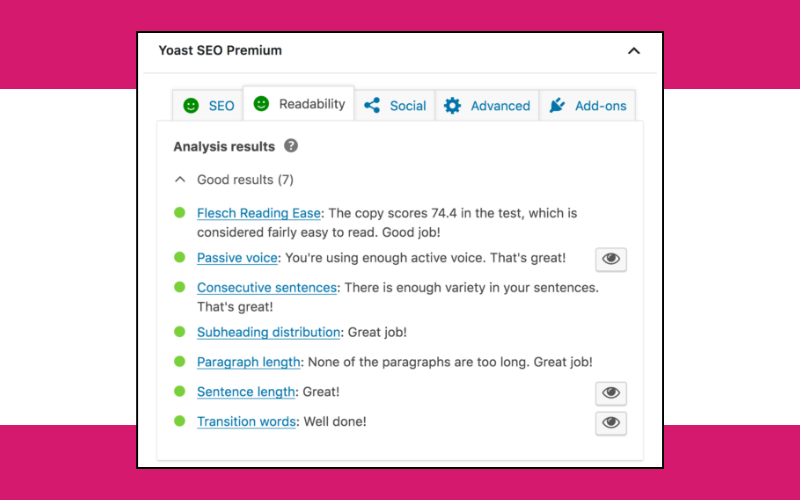 So now, you're writing content for your business' website. To ensure it attracts SEO and potential readers, you'll need Yoast SEO. 
A leader in SEO plugins for WordPress websites, Yoast SEO is the best optimisation tool on the market. For instance, it assists you in writing SEO-friendly content by checking if it conforms to the following:
presence of outbound links

standard keyword length

presence of keywords in the meta description, titles, subtitles

proper meta description length

use of previous keywords

prescribed text length for SEO-friendly content
Once completed, you'll be ready to publish website content that's attractive to SEO and search engine users! 
Cyfe SEO metrics dashboard
Tracking your business' SEO success is essential to assess if your strategies are effective. But doing so might involve logging in to multiple apps and websites which can be a draining process. Luckily, there's Cyfe! 
Cyfe is your new reliable dashboard that gathers all of your business' important metrics and applications in one place. It can house all of your business's social networks and applications like: 
Facebook

Twitter

YouTube

Google Analytics

Pinterest

Zendesk

Salesforce

Shopify
Tracking your SEO performance is not time consuming anymore with Cyfe's reliable multi platform dashboard tool! 
Conclusion
SEO has proven itself as one of the best ways to grow your business. With these SEO tools, you can understand your audience better and optimise your website for search engines, making it more discoverable and engaging.
With these tools' reliability, accuracy, and value, the power to connect your business to your target market is now easier than ever to unlock. So, there's no better response than to have a go at these and see which one works for your business best.

Need more help with organic traffic and online ranking? Our SEO expertise at Elephant in the Boardroom can help! Contact us at www.elephantintheboardroom.com.au!