Nothing is permanent in this world. Except change and digital marketing trends.
It's a continuously evolving space that introduces us to new technologies, innovations, and strategies to connect with our audience and promote our business. And every year, we're always excited to welcome and utilise all these new digital marketing trends. 
So, what can we expect in the digital marketing space next year? 
Join us as we unveil several digital marketing trends that will set your business ablaze this 2024, from new ways to reach your audience to upcoming technologies to boost your campaigns!
Digital Marketing Trends to Look Forward to in 2024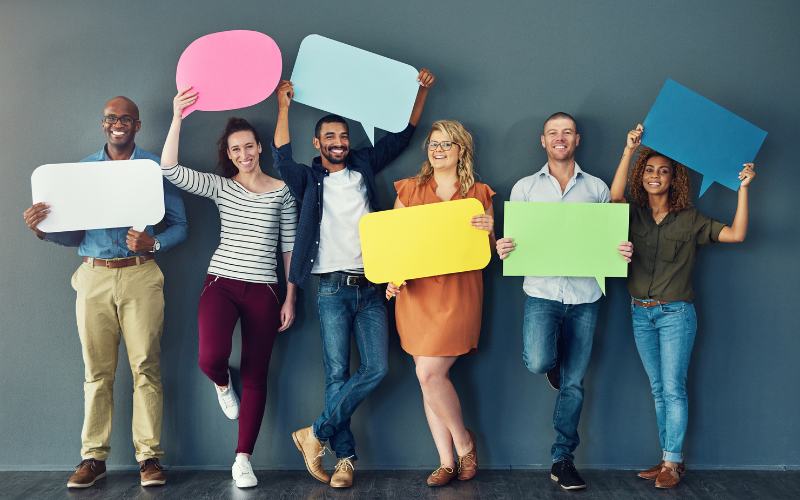 Voice Search Optimisation
You've surely already heard about voice search or even tried it on a previous Google search. 
Already setting itself as a rising digital marketing trend this year, we can expect it to be an absolute game changer in the search industry months from now. 
Digital assistants such as Google Assistant, Siri, Cortana, and Alexa will soon optimise their features for voice search. Pairing this trendy feature to your traditional SEO strategies could potentially lift your brand to new heights. 
Strategies to achieve this aren't much different from traditional means. You only need to: 
Identify keywords for voice search.

Find long-tail, question, and conversational keywords. 

Analyse search results for your target keywords. 

Audit and optimise your website content. 

Boost your site's technical SEO.

Employ local SEO.

Monitor your voice search performance. 
Hyper-Personalisation
2024 will be the year of yet another digital marketing trend–hyper-personalisation.
As such, marketers can now use various tools and analytics instruments to track user behaviour and buying patterns. With that, brands can now directly connect with you as if they know you and fully understand your preferences. 
Hyper-personalisation should be included in your next marketing strategy, from email marketing campaigns to social media and website content. Customers can easily relate to brands that understand their needs. And if you do just that, conversions and conversations can easily follow. 
Social Listening
Despite all these tools to assess your brand's performance, knowing your customers' pulse remains a must. This is where social listening, another digital marketing trend for 2024, can excel. 
Consequently, you must employ strategies to ensure your customers' sentiments are listened to. Next, utilise the power of customer feedback and reviews to build your trustworthiness and authority. 
Also, responding to their concerns on whatever channel they are on can lead to engaging conversations. These conversations often generate new ideas and techniques for your business. 
User Generated Content (UGCs)
Influencer marketing isn't a new thing in the digital marketing space, but a new trend is set to take over as 2024 approaches – the user-generated content (UGCs) and the micro-influencers.
First off, the user-generated content. 
Here, your customers can act as your indirect brand endorsers when they post their reviews or experience with your service or product. Remember, this isn't something you requested but of their own volition. 
This digital marketing trend showcases your genuine interactions and develops authenticity. It also gives future customers an idea of what they're getting when they chanced upon your website, social media page, or anywhere online.
Micro-Influencers 
Up next are the micro-influencers. 
As finding large-scale influencers and dealing with their specific terms gets increasingly difficult, micro-influencers seem to be gaining popularity. 
While smaller in terms of follower count (500-100k followers) compared to bigger influencers, they nurture a more authentic and dedicated audience base. Collaborating with these micro-influencers can go a long way for your brand. 
The AI Dominance
Artificial intelligence (AI) is definitely here to stay. 
2023 is already a big year for AI. But an even bigger digital marketing trend fueled by AI is set to dominate the space next year. 
Backed by AI-powered instruments, analytics, and tools, digital marketing has become easier. Not only that, but its ability to produce accurate and highly focused results can lead you to cater to customers' needs better. 
Also, delegating your marketing tasks to AI eases your workload, giving you more time to focus on other important business matters. Some tasks that you can entrust to AI include client messaging, customer sentiment reading, analytics, and content recommendations. 
Keep your business on top of the latest digital marketing trends
From voice search, hyper-personalisation, social listening, UGCs, micro-influencers, and AI dominance, digital marketing will have an entirely new landscape in 2024. And as a business, you must be ready to rock these trends.
Growing your business and improving your online success involves implementing one of these upcoming marketing trends. But that's not the entirety of the work needed. 
Having your online presence empowered by game-changing solutions from experts is a must. And that's where we can help at Elephant in the Boardroom, your Melbourne-based digital marketing agency! 
 
Contact us now at +61 37018 7620 or at www.elephantintheboardroom.com.au and let's align your brand with the new trends and your customer's needs!