Facebook has finally has added Instagram scheduling to its creator studio. 
Yes, Instagram Creator Studio has finally happened. Marketers rejoice because this means you can finally schedule your Instagram posts and IGTV broadcasts in advance. No more having to post content on the weekends when you're out of the office. 
This is what the notification update looks like when you go to your Facebook's Creator Studio.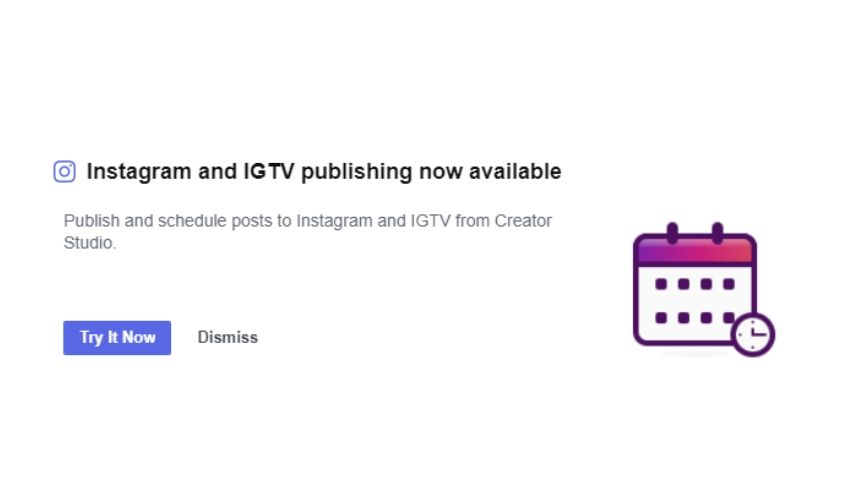 This long-awaited functionality from Facebook is a relief to marketers whom have tried a multitude of various 3rd party scheduling options for Instagram, facing limitations due to Instagram's API.
With Facebook's new implementation, Instagram scheduling is now made easier with increased capacity. Creator Studio allows you to view your Insta post, which is pretty similar to how you're scheduling your Facebook posts. You also get to access a lot of new tools and features.
Very awesome. But how does Instagram Creator Studio works? Let's go into the details of how you can schedule and manage your Instagram posts.
The Initial requirement is to have an Instagram account and a Facebook Page and connecting your Instagram account to Creator Studio. Once connected, you have to switch your Instagram account to a business profile or Creator account. As soon as this is done, you will be able to access the Creator Studio.
You can now officially start your journey with the Creator Studio by clicking on Create Post. This will give the option to schedule your Instagram feed post or IGTV. However there is still no scheduling option for the Instagram stories for now.
Instagram Scheduling #1: Scheduling Post For Instagram Feed
You can upload your photos, type in your caption and add a location once a window on the right screen opened.
If you wish to crop your image, Creator Studio allows you to crop it according to your desired dimension.
Click on Schedule arrow button after saving your photo. On lower part of the screen you'll see a calendar and time settings box in which you can choose the day and time you'd want your post to be posted.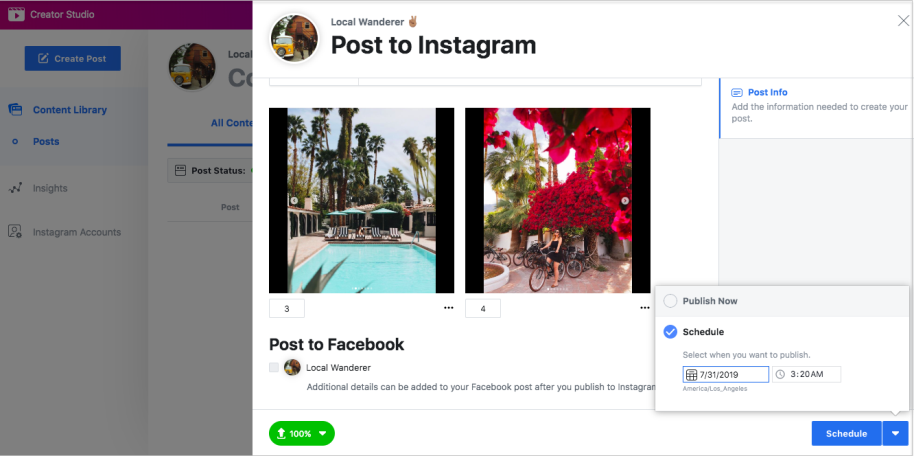 Instagram Scheduling #2: Scheduling Post For IGTV
Start with the same steps as with the feed post but select IGTV after clicking on Create.
If you have multiple Instagram accounts connected to your Facebook page, select which account you want the IGTV content to go live in.
Once you've chosen the account, start uploading your video from your device or from your Instagram profile. Take note when uploading a video, you will need to choose an MP4 file. A .mov file will not upload to successfully. 
Add in the details to your IGTV video including a title and description. Remember to craft an engaging title and description to help your IGTV appear in more search results.
After uploading your IGTV video, you can choose a still image to be your cover image. This needs to be well-chosen because it's going to be the face of your IGTV and it had the ability to draw more users and engagement. Also, it has to fit in IGTV view, in-feed view and in the thumbnail preview in your Instagram grid.
Once you have set up your IGTV and you're ready to schedule it, you can tap down on the Schedule arrow and choose your desired day and time for the video to get posted.
Click on Schedule and wait for the day when your video goes live.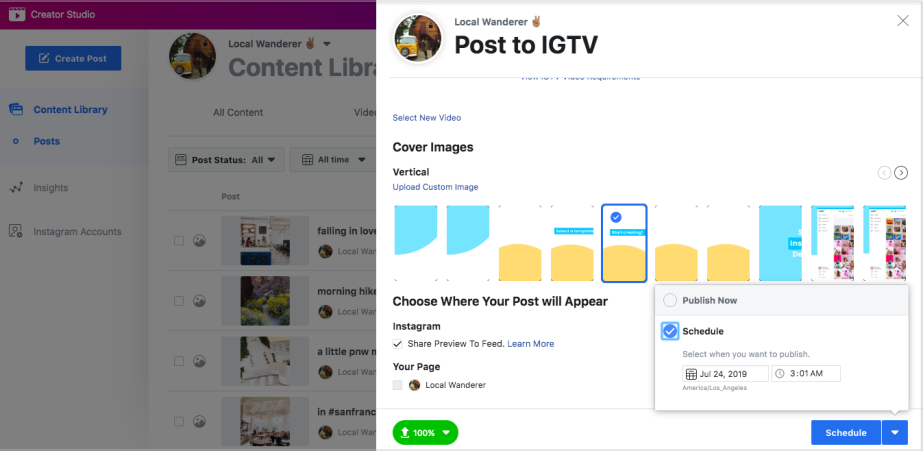 You can view your scheduled Instagram feed post and IGTV through your Content Library. It gives you an overview of all your Instagram content – images, videos, carousels, stories and IGTV. There are many things you can explore with the Content Library such as:
Using search bar to find content faster,
Organise content by Post Status or date,
View each content's insight and performance.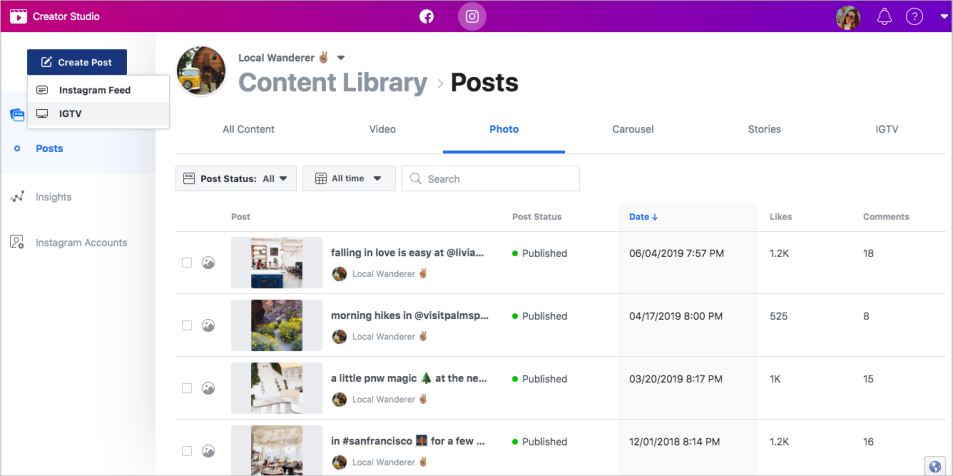 Now that the Instagram Creator Studio has finally arrive, scheduling and managing Instagram posts are made easier for marketers and content creators with the option built into an official app. Here at Elephant, we're excited to continue exploring the platform and the many ways it can automate and streamline our processes more efficiently. 
Do you need help managing your Instagram content and account?  We offer strategies and solutions to help you focus on your business without compromising quality and time. Call us to see how we can help. 
Email: [email protected]
Visit us at: 555 Bourke Street, Melbourne VIC 3000
Call: P: (03) 7018 7620 or M: 0418 967 352