How fast does your site load? 2? 3 seconds? Five? More than five seconds? If so, then you might as well delete your website! It is doing you more harm than good.
Why?
Today's digital world continues to move at a lightning-fast speed, but exactly how important is your website speed?
Let's take a trip back memory lane. About a decade ago, do you remember when Google announced that "site speed would affect web search ranking"? Well, web experts took it seriously and made website site optimisation a top priority. That's how important it is.
According to Kissmetrics, consumers continue to grow increasingly impatient. In fact, their research shows that 47% of consumers expect a web page to load in 2 seconds or less and 40% of people will abandon a website that takes more than 3 seconds to load. In fact, a lethargic website could cost you a decrease in customer satisfaction, fewer page views, loss in conversions, and dollars.
This 2020, website speed is still considered one of the most important elements in increasing relevance for search rankings, retaining traffic and improving conversions on your website.
A small one-second delay could lead page viewers to click back and leave your site before even reaching it! Not only resulting in a high bounce rate and a decrease in traffic but also is damaging user experience. Add a few extra seconds wait time and you're looking at Google ranking jail time.
Alarmingly, statistic suggests that 64% of shoppers who are dissatisfied with an online store's experience & website load time will take their business elsewhere. Say bye-bye to your potential clients running to your competitor's fast website.
WHAT DOES WEBSITE SPEED HAVE TO DO WITH SEARCH ENGINE OPTIMISATION [SEO]?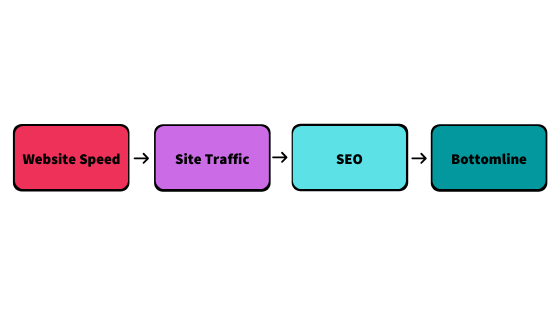 SEO or Search Engine Optimisation is the practice of increasing the quantity and quality of traffic to your website via organic search engine results. 
Google has indicated site speed (and as a result, page speed) is one of the signals used by its algorithm to rank pages. Research suggests that Google might be specifically measuring time to the first byte as when it considers page speed. In addition, a slow page speed means that search engines can crawl fewer pages using their allocated crawl budget, and this could negatively affect your indexation and ranking.
Now let's go back to the question. What does website speed have to do with SEO?
Outside of Google's algorithm, who has the time or the endurance to wait...and wait….and wait?! No one!
Slow speed results in frustrated visitors, which results in high exit rates, further impacting rankings as your site is no longer considered "relevant". Google has given page speed a high priority in its ranking algorithm for many years now. If your speed doesn't meet Google's standards, don't expect your site to be found on page 1 of Google.
WAYS TO IMPROVE YOUR WEBSITE SPEED AND SEO
First, let's consider what could be causing a slow website and page loading.
When you visit Facebook, your browser (Chrome, Firefox, Safari, etc.) starts a conversion with Facebook's web server.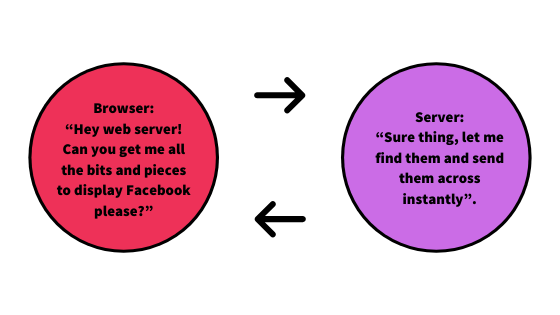 The lightning-fast webserver pulls all of the website parts into a tunnel and sends them across to your browser to load it up. Done [done quickly]. So, you can now effortlessly enjoy Facebook. Seems simple, right?
Behind the scenes, after clicking a site, hundreds of requests are instantly pinged around the world to bring you the images and text. There's a lot going on in those few short seconds, and there's a lot that can go wrong.
Here are some factors to consider:
A lazy and slow server response time.

A server that is simultaneously managing parts for lots of other websites -it's too busy.

Lots of big website 'parts' that each has to be found and sent down the tunnel.

Server Performance & Server Location.

Lots of Traffic.

Images that are too large.

Code Density.

Text graphics or animation.

Too many plugins and or external links.                                                                   
Let's fix it
There are several ways to improve or optimise the speed at which your pages load.
Below, are some ways you can do to optimise your website speed:
Compression tools.

Reduce the size of the files on your website by up to 70%, without sacrificing the quality of images or other graphics. Keep all your images below 100KB, nothing above 1920px in width, at an average/medium/72dpi quality level. Any larger and you'll notice the images loading very late after the page renders.

Save your CSS and scripts as external files.

One of the key things that can slow down your pages as they load is having your stylesheets load up every time that your visitors click through to a new page on your website. Saving your CSS and scripts as external files avoids this problem as it means that all of these files only need to load up once for your website to work perfectly – and of course, this means that individual pages will load much more quickly.

Use caches.

Enable your cache settings so that if your pages are in danger of loading a little more slowly, your website can rely on cached versions instead. If you update your caches regularly, they will give the same look and feel as the up-to-date versions. You should consider using CDN to serve your pages & images.

Minimise your site's HTTP requests.

These requests: images, scripts, and stylesheets are made for each element in your website. The more those components you have on your website, the more you have HTTP requests. In accordance with compression tools, figure out the number of requests your website currently makes and slowly make changes to lower that number. Start by reducing components clutter and simplifying your web design.

Reduce the TTFB (time to the first byte).

TTFB is the time that browsers needed to wait before accepting data from the server. In layman's term, it's the duration the page takes for it to start loading. TTFB consists of three elements. Here's a visual:
                             HTTP request time + Process request time + http response time = TTFB
Aim for less than 200ms TTFB. If your current TTFB exceeds 200ms then check out if you have issues with:
• Server configuration
• Network issues
• Content creation
• Website traffic
Best way to reduce TTFB is to enable browser caching.
Conclusion
There are plenty of other ways you can increase your page load performance beyond these methods above.
Try using methods other than HTML to resize your images, for instance, and try to use the very best performing network that is available.
Google recommends you use the new updated PageSpeed report and tools like LightHouse to measure page speed and make improvements.
Page loading or website speed is one of the key elements in your website you should never forget. Speed can make or break your website's success. Monitor your loading speed on a regular basis so you know where you stand, and you'll know how to solve it in case of trouble.
Stated methods above can be overwhelming but no one told you to do all those overnight. Take it one step at a time.
Do you need help revamping your website, optimising your website content or increasing your website speed?
Contact our highly motivated team to help you realise your business goals. For a free consultation at our Bourke Street office – call 0418967352 or email [email protected].