Social media is an integral aspect of digital marketing. For years, businesses have been taking advantage of its reach, scale and influence in order to push their marketing agendas. Facebook, Instagram, Twitter and LinkedIn are frequently used by companies to create paid ads, or to share meaningful content to boost their organic growth. Each platform is different, with a distinct content format and user base. But what about Pinterest?
Pinterest is a service that attracts over 416 active million users per month. Unlike other platforms, which focus primarily on community discussion and user engagement, Pinterest acts more like a digital scrapbook than a conventional social network. How it works is that users have "boards", which are decorated with "pins". Pins from one person's board can be saved, or "repinned", to someone else's board. Boards will generally have a theme, such as fashion or travel. People can then browse boards of interest if they are looking for inspiration. This makes the platform a so-called "catalogue of ideas". Users are said to be the most active search participants on the internet, with users directly looking for, bookmarking and uploading new ideas. It feeds the growing consumer appetite for visual content in a way that no other platform does.
Benefits of Pinterest marketing
There are many reasons to use the network as a marketing channel. Of course, every business is different, and its suitability will depend on your business, your industry and your customers. Here are some key advantages to consider.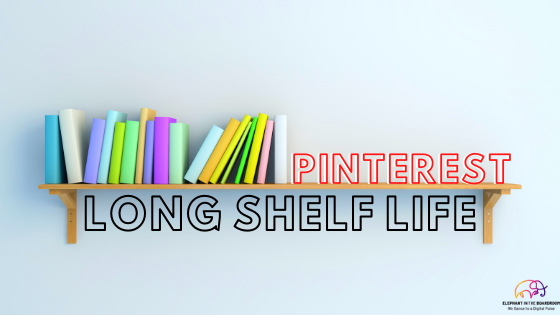 Pinterest content has a long shelf life
Studies show that Pinterest content can go a long way, and has a general lifespan of up to 30 days. This is thanks to the non-linear way in which the content is being accessed on the platform via the search function. Users may not get a surge of engagement immediately after creating a pin. It's more of a slow burn. Over time, as people search for similar content, you'll be discovered and repinned (provided your content is interesting, relevant and meaningful).
Pinterest attracts a unique demographic
Pinterest is a great way to target specific customer profiles. The platform is dominated by females, who account for 71% of its users. Pinterest reaches a whopping 81% of women in the USA aged 25-54. There is no other social platform with a similar gender divide. If you're looking to reach this market, Pinterest is a great avenue to do so.
Pinterest boosts traffic to your site
Few platforms do visual content as well as Pinterest. It's browsable, clickable and easy to digest. Therefore, it tends to get very high engagement. Pins are automatically linked to the websites from which they are taken. This means if people click on an image from your site, they will be redirected to it. This is a great way to boost traffic to your website. Unfortunately, however, these links will are not directly linked to domain authority as links from pins to your site are "no-follow".
Pinterest and consumer buying behaviour
Some use Pinterest to browse aesthetically pleasing imagery. Others use it to create visual mood boards. However, a large proportion of people use Pinterest for shopping purposes. The content on the platform has the "inspo factor", and the nature of its images can incite powerful purchase motivations. Users can use the app to search for products in a way that isn't possible on any other platform. The app allows them to use visual descriptions of what their looking for, and the search results include images from a plethora of different websites and e-commerce stores. Here's how the Pinterest buyer journey typically works.
1. Problem recognition
Research by Pinterest shows that 93% of its users use the platform to plan a purchase. This begins with consumers realising they have a need to be fulfilled, or a problem to be solved. The images posted on the platform can make users aware of this, by providing them with a mental stimulus (i.e. the desire to buy the product/service). In order to capitalise on this process, businesses can produce and distribute lifestyle and catalogue photos via Pinterest which demonstrate the intangible benefits of their products/services in a visually pleasing way.
2. Information search
Once the need has been recognised, the user will gather more information to help inform their decision. This equates to searching and browsing on the platform to find content which aligns with their goals. Organise your Pinterest content into engaging and easily searchable boards that resonate with prospective customers. Try different tactics on different accounts and monitor the results closely.
3. Evaluation of alternatives
In this stage of the buying journey, customers will explore and assess their options, paying close attention to factors such as price. At this stage, you must convince your customer that you are the best available option. Try using persuasive feature-based arguments such as brand infographics.
4. Purchasing decision
About 89% of users say that Pinterest has a positive effect on influencing the purchasing decisions that they made.  Furthermore, 72% of users purchased something in the real world that they had originally seen on Pinterest. Since the launch of new promoted Pins, advertisers now have a range of new ways to reach consumers in order to influence critical purchasing decisions and can target users based on their interest in related items.
5. Post-purchase and evaluation
During the post-purchase & evaluative stage, Pinterest can be used as a platform to demonstrate new ways to use the product which will extend the product lifecycle. Brands can leverage engaging content posted on the platform after the sale to reinforce positive associations towards the brand as well as to alleviate feelings of buyer's remorse.
Do you need help with your Pinterest marketing strategy? If so, talk to Elephant in the Boardroom. Elephant in the Boardroom is an SEO Agency in Melbourne that can boost your presence not only on Pinterest, but on multiple platforms across the digital environment.
Visit us at www.elephantintheboardroom.com.au or call us on +61 (03) 7018 7620 to learn more.