Healthy competition between businesses is a good thing – especially if you're in the lead. It keeps companies on their toes, innovating and re-strategising to stay ahead of the pack. One way that businesses are getting creative is marketing. Nowadays, old school advertising simply won't cut it. Today's commercial climate demands that businesses think outside the box and explore new ways of connecting with their audience. The rise of digital has been a significant factor here, and has transformed the way brands promote their goods. Consumers are hungry for content, rather than formulaic sales pitches to which they have grown impervious. One of the most creative and engaging content marketing strategies to date is podcasting.
Podcasting is an emerging trend in the marketing world which many businesses are embracing. Podcasts are incredibly popular, likely due to their low cost and convenience. They allow listeners to tune in while commuting to and from work, doing house chores or exercising. The fact that people can multitask while listening to podcasts is a game changer in our time-poor society. Unlike reading a book or watching a documentary, podcasts allow consumers to listen and learn while going about their daily life. This provides a golden opportunity for businesses to reach consumers. A quality podcast can build goodwill, earn trust and position your brand as a thought-leader in your industry. Connecting with your audience with compelling content and storytelling is far more powerful than any pop-up ad. It's also relatively cheap to produce compared to other digital marketing efforts.
In terms of content, focus on what you know. Use your unique industry insights to bring something new to the table. Share stories of success and failure to humanise your brand. Interview interesting guests about their personal experiences. Give your thoughts on industry news and developments. Avoid salesy jargon. Podcasting for business, and content marketing in general, isn't about making direct sales. It's about the long-term, building credibility and connecting with like-minded people.
Here's why your business should consider taking up podcasting.
Easy to produce and inexpensive
Podcasting requires minimum equipment. All you need is a microphone and a digital recorder. You can find relatively inexpensive yet high-quality microphones online – refer to reviews to find an option that meets your budget. Once you've paid your upfront costs, you're all set. From a technological perspective, podcasts are easy to create. A simple Google search is all the training you need; there are plenty of free tools available on the web. To make your podcast sound polished and professional, consider some intro music. There are lots of free, non-copyrighted jingles out there. If you have the means, you can even curate your own for a personal touch. For more on this, check out our blog on sonic branding.
Captures the audience's attention
Hearing the voice of the presenters will help to humanise your brand and lift its corporate veil. This helps to build strong relationships and consumer confidence. Audio can be much more compelling than text alone and is an effective means of communicating a message. Nowadays, consumers have become immune to most traditional marketing material. They are fatigued by pop-ups and unsolicited ads and prefer to engage with authentic and meaningful content. Think carefully of how you want to portray your brand and develop content accordingly.
Authoritative presence in your industry
If you manage to cultivate a solid listener base, you'll build a reputation as a key player in your industry. People will trust in your brand as its credibility builds. As your podcast garners positive reviews and attracts more listeners, word will spread and it may win you customers in the long term. Regular podcasting with valuable information and unique insights can add a layer of prestige to your brand. Be specific with your topics and stay relevant. High-quality, thought provoking content will set you apart from competitors with similar offerings.
Brand awareness
You may have developed a miracle product, but that means nothing unless people know about it. If you're looking to build brand awareness, jump at any opportunity for low cost promotion. Integrate podcasting into your digital marketing strategy to maximise your reach and get the word out. Make sure to stay on topic in your content. Though it's an indirect form of marketing, it's important to keep things industry specific. This way, you can organically mention your products or services to promote them.
Easy access
Podcasts are incredibly accessible. Not only are they available to download across many different platforms, but they can also be listened to on many different devices. Users can tune in any place and any time, even without an internet connection. Try and get your podcast running on iTunes, Stitcher, SoundCloud, Spotify, Spreaker, iPodder, YouTube and YouTube to maximise your audience. You can also use social channels to share episode snippets and highlights.
Cross-industry network connections
A popular format for podcasts is a guest interview. Approach people in your industry who have something valuable to share. For example, you could invite an entrepreneur to speak about their success and failures. Guest speakers offer a fresh take on things and keep your content interesting. Also, this is a great form of networking. Regularly interacting with successful and high-profile people in your industry can build business relationships. You might even end up working together in the future. Meeting industry leaders also helps you establish a good reputation in your market.
Reach more qualified prospects
Podcasting is speaking to the masses. Rather than having to do hundreds of one-on-one consultations with prospective clients, podcasting allows you to reach a large pool of like-minded people with ease. If people are interested in doing business with you, they can reach out to your brand directly. This is a much more efficient way of speaking to people.
Podcasting is long-form content
Short-form content is the focus of social media. Twitter, Facebook and Instagram allow for bite-sized content like 1-minute videos, tweets and stories. Ideally, your digital marketing strategy should integrate long-form content too. Podcasts have taught us that people's attention span isn't as small as we think, with some of the most popular podcasts hitting the 2-hour mark. This gives your business the opportunity to dig a little deeper and showcase its value in a more meaningful way.  
Fits into a busy schedule
With podcasting, you can fit it in to suit your schedule. You can choose to post weekly, biweekly or monthly depending on your circumstances. Because your equipment is mobile, you can record wherever suits you. All you need to do is show up and talk – with the help of some prior research. Because you're discussing what you know, the words should flow easily. You don't have much to lose when it comes to podcasting. So give it a try and see how things go – you never know what opportunities it might bring.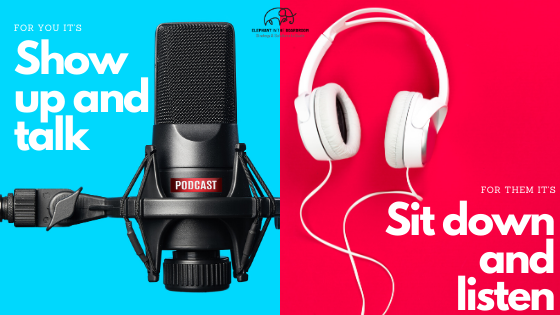 Conclusion
Podcasts are a creative and cost-effective means of promotion to include in your digital marketing strategy. A thought-provoking episode with unique insights can boost credibility and position your brand ahead of the pack. If you have ideas to share, podcasting is the perfect way to do it. Never has it been so easy to reach an audience in this way, so take advantage of the resources at our disposal. With time you will find your voice and hopefully people will tune in.
Elephant in the Boardroom is an SEO Agency in Melbourne that can optimise your online presence. We're also experts in website design, website development, content writing and all things digital.
Visit us at www.elephantintheboardroom.com.au or call us on +61 (03) 7018 7620 to learn more.