It's been a rollercoaster of a year for most businesses. In fact, for some it's been make or break. But if this pandemic has taught us one thing, it's the importance of having a digital offering to fall back on in turbulent times. Online marketing and trading has saved many enterprises from extinction, allowing them to navigate through the storm when their physical storefronts were forced to shut their doors. In many cases this opened new opportunities for businesses, which used their websites and social platforms to connect with people and meet new demands. For example, some restaurants began to sell at-home kits for people to recreate their favourite dishes in their own kitchen while on lockdown.
Regardless of covid, having an online presence remains a prerequisite for modern businesses. The future is digital, and in order to survive long term, they must embrace this reality. If you haven't made the move online yet, let's make it a goal for 2021. A website is a good place to start, whether you sell virtually or not. But what makes a good website these days? Visitors are more demanding than ever, and the search results a competitive playing field. If your site is weak, odds are most users will bounce after a few seconds and you'll get lost in the rankings. Luckily, the formula to a solid website isn't exactly a secret. There are plenty of known best practices that, when implemented alongside one another, can boost traffic, engagement and conversions. Here's what's expected of good websites in 2021.
Make it responsive
Did you know that mobile users now account for approximately half of web traffic worldwide? And this staggering figure is expected to steadily rise. Therefore, it is essential that your website reflects this trend, and caters to the masses with a site that is optimised for all devices. This means that your web design should automatically adjust its sizing, layout and proportion so that it is displayed clearly and attractively on mobile, desktop and tablet screens. Given that the lion's share of traffic comes from mobile devices, a responsive site is no longer a bonus; it is critical. Not only will it keep visitors on your site, but it will also benefit your SEO. Google and other search engines now put a premium on mobile-first websites, which increases their visibility in the SERPs.
Pick up the pace
Always assume your visitors are in a hurry. They don't have time to wait for your website to load, especially when they can find something similar more quickly elsewhere. It takes about 50 milliseconds (half a second) for users to decide whether they like your site or not, and whether they'll stay or leave, if that time is spent looking at a blank screen, your odds aren't good. In fact, research suggests that 47% of consumers expect websites to load in two seconds or less, and 40% will abandon a page that takes three or more seconds. Basically, a slow website obliterates your chances of conversions, so if you get one thing right, let it be speed.
If your site is lagging behind, there could be a number of culprits at play. These could include too many HTTP requests, large unoptomised images or caching issues. Invest in a digital health check to get to the root of the problems, and prioritise their resolution. Keep in mind that speeds vary across different devices – desktops tend to be faster. Page speed is also crucial for your site's SEO. In fact, it's one of Google's top criteria when it comes to climbing the rankings. Time to catch up.
All hail content
Content remains king, and its mighty reign is far from over. Passive websites tend to have the same homepage year round, which is bland and uninspiring. Instead, take a proactive approach with seasonal and topical content that your users are likely to engage with. Good websites are regularly updated with fresh, interesting content tailored to their target audience. This could include images, videos, blogs, testimonials – the possibilities are endless these days, and you have a unique opportunity to get really creative in order to stand out. Rich, interesting and up-to-date content is also one of the best ways to boost your website in the rankings.
Introduce chatbots
Many visitors will click on your website in search of real-time information. If their query is complex or individual in nature and can't be found in the FAQ section (e.g. will my order arrive by Christmas if I place it today? What makeup shade is right for my skin tone?), they may have to get in touch. Rather than subjecting prospective customers to the slow and antiquated process of submitting a contact form, get them the answers they need without delay using an integrated chatbot. Chatbots provide lightning fast customer service which can solve the user's problem in a matter of seconds. In this way, chatbots can boost conversions drastically, reducing customer anxiety and friction along the buying journey. They also personalise the experience, warmly greeting the user by name and establishing a rapport.
Go micro
Micro-interactions play a key role in a seamless, engaging and active user experience. These visual responses and animations help to clarify to the consumer how things function and provide feedback to them, making everything flow naturally and logically on your website. They are triggered by an action that visitor takes on your site. For example, if you hover your mouse over the 'like' button Facebook, a choice of 'reactions' pop up. Bring your site to life with micro-interactions such as a progress bar at checkout, error alerts and pop-up reminders. This is another real opportunity to inject some creativity and originality into your site, so have fun with it.
Choose your colours wisely
When choosing your site's colour scheme, you must consider your overall branding, as well as consumer psychology. Consistency is key, and visitors should be able to tell the site belongs to your business instantly. A good place to start is your logo if you've got one and use this as a guide for accents and highlights. Keep in mind that some colours carry innate connotations which can evoke emotional responses in users, so be cautious in your selection. For example, blue signifies openness and trustworthiness, black suggests professionalism. And above all else, make sure your palette is in keeping with your offering and the image you want to portray to the world.
CTA buttons are the only exception to the consistency rule. They are there to stand out, so don't be afraid to use a pop of contrasting colour. For context, Hubspot carried out a fascinating study whereby they tested two CTA buttons in different colours to see which generated more oh-so-lucrative clicks.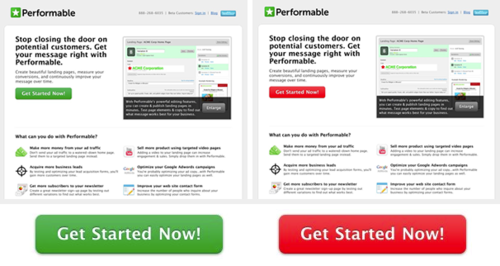 What is interesting about this experiment is the generally accepted connotations of green and red. Traditionally, green is associated with "correct", "go", and other positive affirmations and actions. Red, on the other hand, is often seen as a caveat, or associated with stopping. Based on these presumptions, it's fair to assume the green button outperformed the red, right? Funnily enough, the red button prevailed, a victory which could be owed to its contrast with the page's colour scheme.
With more and more businesses making the move online, the level of competition can seem daunting. But in reality, it's not all that difficult to stand out once your website implements some key SEO and design best practices such as those mentioned above. Start with the basics, making sure your site is functional and accessible. Once you have laid these foundations, start thinking about how you can make your site intuitive and persuasive. 2021 is the year to start prioritising digital. Take the first step towards online domination today.
If you need some help along the way, reach out to the experts at Elephant in the Boardroom. Our team of seasoned web designers and branding specialists can put you on the digital map. Visit us today at www.elephantintheboardroom.com.au.