No business likes getting bad reviews. When somebody complains about the service you provide, it can feel like a real kick in the gut. Of course, consistently getting negative reviews about repetitive issues is indicative of a problem that requires grave attention. But a few scattered here and there don't necessarily mean bad business. In fact, they can do more good for your business than you think. It all depends on how you handle them.
So, don't be tempted to remove your bad reviews just yet. Here's why they should stay put where they are.
Inform buying decisions
Positive reviews aren't the only influential factors along the customer's buying journey. Bad reviews also play a significant role. Here's the thing, the majority of bad reviews pertain to customer disappointment, rather than poor quality of products/services. Indeed, the most common words found in reviews are "disappointed" and "disappointing". This suggests that most negative reviews simply point out that the product/service didn't suit the customer individually. This doesn't mean it won't suit other customers, however, who can use the information in the review to decide whether it's a good fit for them, based on their lifestyle and preferences.
Build trust
You might think that having only excellent reviews will make consumers more likely to trust you. In actual fact, to savvy consumers, this is more of a warning sign. If a site has no negative reviews, it seems too good to be true. It suggests shady behaviour on the part of the business, which is a huge killer of consumer confidence. Fake reviews are also a common black-hat marketing tactic these days, and having zero negative reviews on your site is a tell-tale sign. According to a study, 68% of customers trust reviews more when there are both bad and good ratings. However, when they don't see any bad reviews at all, 95% of them suspect false reviews. To avoid this suspicion, just keep it real. Having a few not-so-glowing reviews adds a layer of legitimacy to your business which itself is hugely valuable.
Increase conversions
When a consumer reads bad reviews, the chances are that they are digging deep in their pre-purchase research rather than looking for reasons not to buy. Having a rich variety of reviews makes them spend more time on your website, browsing from page to page in search of more information. In fact, these consumers tend to view four times as many webpages as other visitors. This makes them prospects who are likely to convert.
Opportunities for engagement
Look at bad reviews like a golden PR opportunity. It's a chance to show off how diplomatic and customer-centric your brand can be. Remember, how you respond to a bad review can say much more about your business than the review itself, so choose your words wisely. If a customer makes a legitimate complaint, let them know you understand their issue, you've taken it into account, and that you're sorry. In some cases, it might be appropriate to offer a discount or another perk in an attempt to salvage the customer relationship, while making yourself look great in the process. For petty, unfounded or excessively rude reviews for which you owe no apology, you can consider another avenue. Many brands do a good job of responding to such feedback in a humorous way. However, there is a very fine line here, and it takes a great deal of discretion to go down this route successfully.  Keep it light-hearted and fun, so that your brand comes out on top.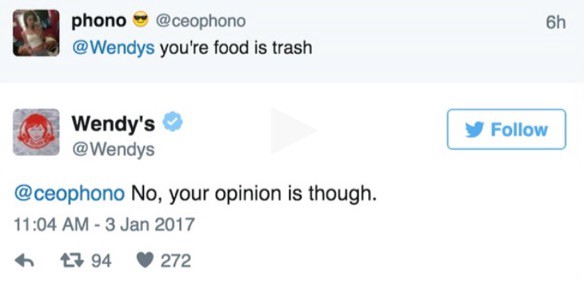 Rich insights
Reviews should be looked at as free qualitative data. They are hugely valuable, because they tell you exactly how customers feel about your product, service or business – no tedious surveys or focus groups required. If one of your products is getting consistently negative feedback, use this to make specific improvements. Once you've made your changes, let your customers know about the new and improved formula via marketing messages. Businesses should be committed to fulfilling the needs of their customers if they want to succeed. The best way to do this is to listen to them, and act on it.
Conclusion
Hopefully we've convinced you that bad reviews belong on your site just as much as good ones. Realistically, nothing is going to be right for 100% of people. So let consumers make up their mind by getting a realistic and holistic view of your product/service. Having the confidence to leave your bad reviews on your website in turn gives consumers confidence in your business. Make sure to respond in a way that paints your brand in a positive light, both to the reviewer and other browsers. If you're getting too many negative reviews, however, the only appropriate action is to address the issues and fix them. You're only fooling yourself by deleting them – this is a short term solution that won't get you very far.
Need a flawless marketing strategy for your business? Team Elephant can get the job done. Contact us for a complimentary digital consultation at www.elephantintheboardroom.com.au.