Why does Google keep updating its algorithm?
Essentially, the update serves to provide a better user experience and hopes to give users the best possible answers to their search queries.
2021 saw a total of 3 Google core updates, with the November 2021 update being the latest. Data results from this update showed that the November 21 core update hit fast and hard. How fast and how hard if you may ask?
SemRush was one of the companies who tracked and analysed the November 2021 core update and shared impressions of this update. The results were as good as everyone's guess- it hit hard within the first day of rolling out and then it slowed fast.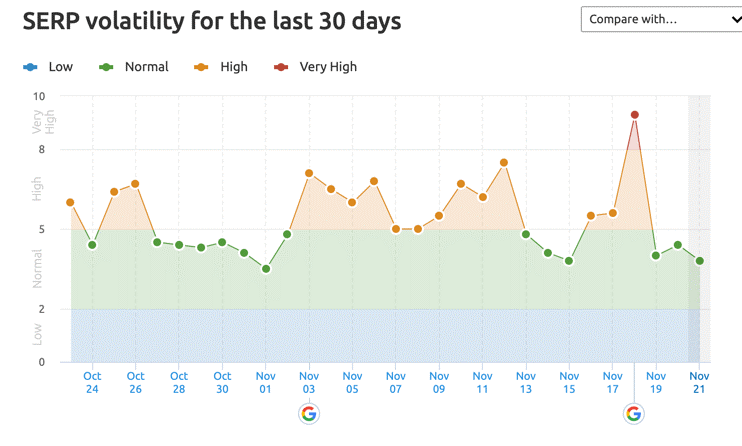 According to Mordy Oberstein of SemRush, the above data was comparable to the July update but was far more volatile, 12% more volatile on desktop results and 25% more volatile on mobile results to be exact.
See side by side volatile comparison of the July update versus the November update: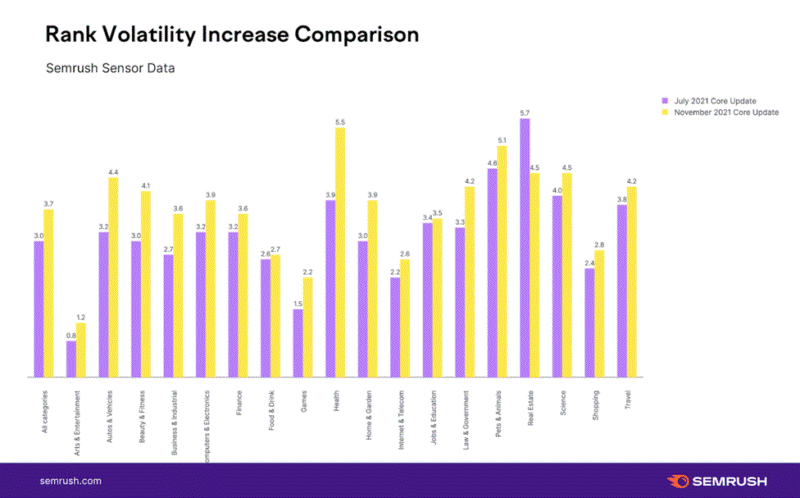 Based on this, it was apparent that the health sector was more impacted by Google core updates with 41% more volatility on both desktop and mobile results.
Now you may be wondering who benefited from the update and who did not. Here's a detailed chart from SemRush again:

The domain https://www.medmalrx.com came out on top with 263 gained positions.
What do these Google core update data results have in significance to your business? The reason is plain and simple – this update plays an important role as to why your website is losing traffic.
How do you know if your site has been affected or targeted by the update?
A simple way to tell if your site has been affected by a Google update is if the traffic to your site has changed dramatically. This can happen in any direction.
When you notice an alarming change in your traffic and haven't done anything, it's Google's way of saying that you've been affected. Google has its set of guidelines for websites to follow, and if you ignore this, be ready to get penalised.
But keep in mind that being affected by the update and being penalised are 2 different things. A Google Algorithm Update is a change made to the way their ranking algorithm works, and being negatively impacted by an algorithm change does not always mean that your website has been penalised. A penalty, on the other hand, is when a website is penalised as a result of a violation of Google's Webmaster Guidelines.
To know for sure if you have been penalised, understand that there are 2 kinds of penalties: manual action penalty and algorithm penalty. Let's quickly go into the details of these two.
Manual action penalty 
With this penalty, you are told where you went wrong by Google itself. More often than not, a message will be sent to you covering the details of your penalty.
Algorithm penalty 
Unlike the manual action penalty, the algorithm penalty leaves you in the dark because you are not informed what went wrong. In this case, carrying out a Google penalty check is necessary. Here's what you need to do:
Monitor the traffic on your site. If there's a noticeable drop in your traffic, analyse and list possible reasons.

Review your keywords and rankings. If you see that your rankings have taken a dip along with your traffic, the Google core update is likely to have caused it. But which update would that be?

To know which update hit you, have a look at your traffic with respect to updates through Google Analytics. Pull up a graph of the website traffic of your site that came from Google. If it points to a Google update on that specific day, you have found your answer. Note: There are also other tools you can use to determine which penalties hit your site such as SemRush Sensor, Google Search Console, Fruition Google Penalty Checker and MOZ.
How to Recover from Google Core Update?
Use the Guidelines provided by Google when optimising and updating your website.  This comprehensive outlines some of the best practices you need to apply in order to get the best out of Google updates.

Improve your E-A-T (Expertise, Authority and Trustworthiness). Although it has been established that E-A-T is not a ranking factor, Google's algorithms are capable of identifying signals that point to your website's E-A-T, such as page rank and links. Therefore your website should be able to show that you're an expert in the industry and your content is reputable.

Ask for help. Google core updates are tricky and for some, it's a challenging feat to try to see what went wrong for your website. Luckily, you can always ask for help from the website and SEO experts (like us!).

Think holistically rather than focusing on a specific thing only when it comes to Google core updates. This allows you to be open minded so you can address other possibilities and solutions for your website.
Prepare Your Website for the Future
In order to not to be negatively affected by Google core updates, future-proof your website and ensure it's on top shape. Indulge in the best SEO practices, ensure your website's content provides quality and value, and offer the best user experience for your online visitors.
Do you need help in fixing your website and in preparing your website for future algorithm updates? Elephant in the Boardroom can help! We will look into the current status of your business in terms of searchability and other relevant factors, as well as the goals in place for the foreseeable future.
Contact us today!