Oh, yes, another blog to improve your website design and development schemes! What are site links and how can they improve your website?
Sitelinks are helpful in easing up search experience for Google users, as it provides them already with links that will carry them to the specific parts of a website, particularly to the ones they are looking for. But not all sitelinks can provide you what you want. So, it will be better if your website can present itself in search results with sitelinks to specific pages within your website. That's a plus for sure in user experience and website development.
What are sitelinks?
Website design and development people know this all too well, but how about the average website users? Sitelinks are links that appear in Google search results. Its primary purpose is to make the website browsing experience easier for searchers, as it already links the areas within the site that are relevant to the users.
Per Google, sitelinks are there to 'help users navigate the website'. It also provides the users with shortcuts that can save users time and allow them to find information within the site quickly.
To figure it out, for example, you searched for 'Just Honk Used Cars' in Google. The sitelinks are the ones inside the box.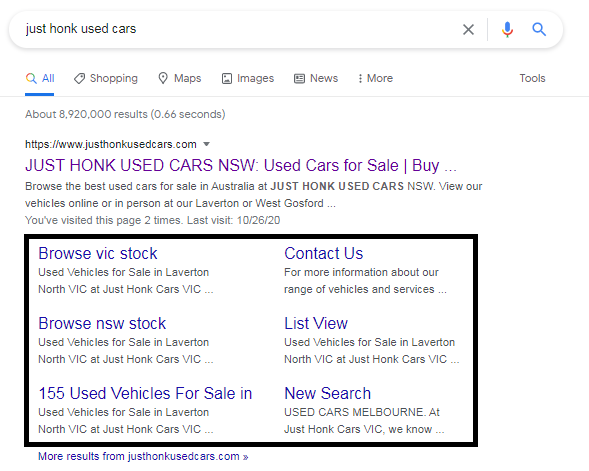 As you can see, instead of clicking the websites main link and finding the specific webpage by yourself, the website already provided you with sitelinks to relevant pages, such as browsing car stock per branch so you can browse the best car options, and contact details if you are wanting to order, buy, or sell a car.
How to improve your sitelinks
Back then, you could remove unwanted sitelinks from your website, but Google removed that tool, and now, it can generate the sitelinks by itself.
But you are still in control of how your site links appear in the search results by taking the following steps into consideration.
Identify where the undesired sitelink goes internally
To check this, crawl into your website and see where the sitelinks lead you.
Upon collecting the list of pages, you can review and then update the anchor text and internal links that jump into that unwanted sitelink. Resubmit the said pages into Google Search Console afterward.
Wait for several days and you must check the said sitelinks in Google search results to see if the changes you made are enforced already.
Noindex the page appearing in sitelinks.
Warning before you proceed - no indexing a page means you are removing it from search results for good and will no longer gain organic traffic.
Now that you know that, you may proceed.
If there are pages appearing in your sitelinks that shouldn't be indexed, consider noindexing them to remove the unwanted sitelink.
READ: 10 Tips to Drive Traffic and Leads to Your Website
Use anchor text and alt text that exactly describes the link.
Now, we go to improving your existing site links.
Inputting the text that will show the site link on the search results, or the descriptive anchor text, it also must contain an alt text. Keeping it concise, to the point, and avoiding repetition will be enough to complete the trick.
Create a clear website structure.
Your website's hierarchical structure will also be helpful in improving its site links.
The ideal website must open up with a more general topic, or the home page, up to the more specific topics, or pages, such as contact details, blogs, 'About Us' page, and similar pages.
For example, in the page we put as a sample in the site links definition earlier, the hierarchical order can go like this: Cars > SUV > Ford > Ford SUVs.
This shows you how big an impact website structure does when it comes to site links.
Hope we have helped you remove those unwanted sitelinks within your website or improve your existing websites further!
But that's not the only help we can provide you! Looking for website design and development solutions? Our expert and trusted team, the Elephant in the Boardroom, can do just that for you. Our results-driven web solutions dance to the digital pulse, and are trusted by our clients around Australia. Know more about how our agency can be the ideal fit for your business right here at www.elephantintheboardroom.com.au.